---
Posted by Danielle Rautiainen on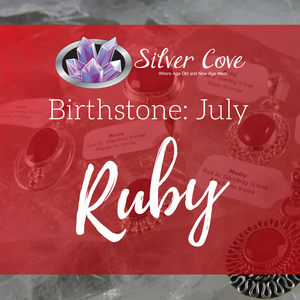 There are hundreds (possibly thousands) of stories, myths, and legends that surround this positively royal Gemstone!   In certain Hindu beliefs it is believed that wearing a ruby protects them from their enemies. On the other hand in Burmese traditions if a soldier keeps a ruby under the skin, he will become invincible; and the Hebrews believed that if a dragon was carved on a ruby, it would bring prosperity and health.   Ruby is a pink to crimson colored Gemstone, and a variety of the mineral corundum, like Sapphires. Rubies are thought to be excellent stones for imparting vigor and...
---
Posted by Danielle Rautiainen on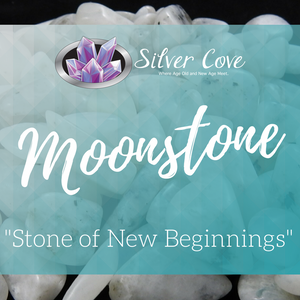 Moonstone is a flashy member of the Orthoclase Feldspar family, a cousin to Labradorite and Sunstone. It sits at a 6 on the Mohs Scale of Hardness. Ancient Romans believed that Moonstone was solidified rays of the moon, and both Romans and Greeks associated Moonstone with lunar deities. Moonstone is actually found in many colors including peach, white, and black, but the Rainbow Moonstone is the only one that displays a vibrant blue flash when cut properly.  Moonstone is said to be the stone of new beginnings and divine feminine energy. It is thought to be connected to the moon,...
---
Posted by Danielle Rautiainen on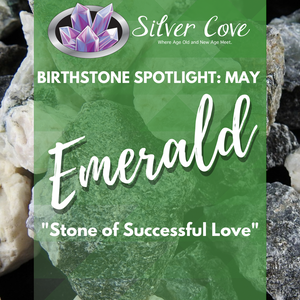 Emerald, the stone of successful love! Emeralds are the traditional birthstone for May, so we at Silver Cove want to spread a little "successful love" ourselves by sharing some fun facts and information about this vibrant and popular Gemstone! Emeralds are a variety of the mineral Beryl that has been colored green by amounts of chromium, and occasionally, by vanadium. Beryl has a Mohs Hardness level of 7.5 to 8, making Emerald one of the hardest minerals on earth (Diamonds being a 10 on the Mohs Scale). The deeper the green color, the more valuable the Emerald; with pale green...